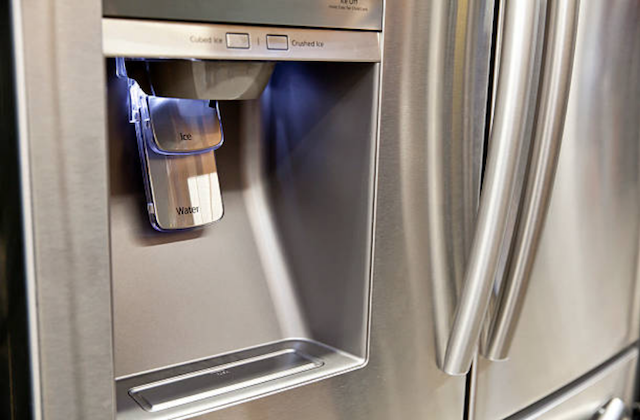 The importance of a refrigerator in a home does not need to be explained to someone. All the food is conserved in a refrigerator, and a faulty one would mean that good food will go bad and would have to be disposed of. To avoid such a situation, you must quickly notify a repair service so that they can come and repair your machine for you to use again.
Freedom is glad to be of assistance if the need arises. We have our same day repair facility to quickly repair your appliance without making you wait. All your food will hence remain conserved, and your appliance will be usable again.
REFRIGERATOR PROBLEMS WE REPAIR
LOUD/CONSTANT NOISES
Damaged ventilators or turbines in the appliance generally leads to loud noises from it. It is a pretty common problem however we can solve it quicker if you could point out the source of the noise so that our workers can carry with them all the necessary parts and tools for the fix.
WATER LEAKS
Water leakage from a refrigerator is not a major problem. They may arise due to faulty latches or valves. The required repair can easily be completed on our primary visit to your house. Our stocked van and expert repairmen act as a catalyst in making sure your appliance is working properly again as soon as possible.
WON'T START
The appliance should be connected to a power source, and all switches should be on such that power reaches to the appliance. If your refrigerator still does not turn on, there is some problem with it. Generally, it is either of a defective compressor or because of a malfunction temperature control.
ICE MAKER WON'T MAKE ICE
If your refrigerator is not making ice or turning out ice which are smelly or which takes too long to make, do not panic. These issues can be rectified pretty easily. These problems might start due to the freezer temperature being off from what it should be or if there is some problem with the water channel and its valve.
FRIDGE TOO COLD/WARM
A broken refrigerator always is with some issues in the temperature. Too hot or too cold depends on which of the components of the refrigerator stopped working. The air damper and thermistor are elements which usually cause issues such as these. Although you should not be concerned as we can take care of these problems swiftly irrespective of brand or model so that you can go back to using your refrigerator.
BROKEN WATER DISPENSER
This is a pretty uncommon repair for a refrigerator. If the input water channel valve or actuators of the dispenser are defective, it results in this problem. We can fix this problem for various brands like Sears, Whirlpool and GE among others. Parts to all these brands and all the tools required for the repair are kept ready with us at all times.
DOOR LATCH/BULB PROBLEMS
This problem might not seem like a big one, but many other issues like condensation may arise due to this. Bulbs, hinges and gaskets are repaired or replaced quickly to avoid a decrease in the temperature of the refrigerator.